This is relevant to a previous point. The drone is a machine that flies up high where the wind is stronger, and although it tries its best to stay stable, some shaking is unavoidable even in low wind conditions. The higher you go, the windier it typically gets—so even if it's absolutely still on the ground, you may get wind up above. Although the Phantom offers the ability to go as high as 8sec on the shutter speed, as I mentioned before, it is advisable not to exceed 3sec unless you're okay with shaky photos.
7. ND and PL Filters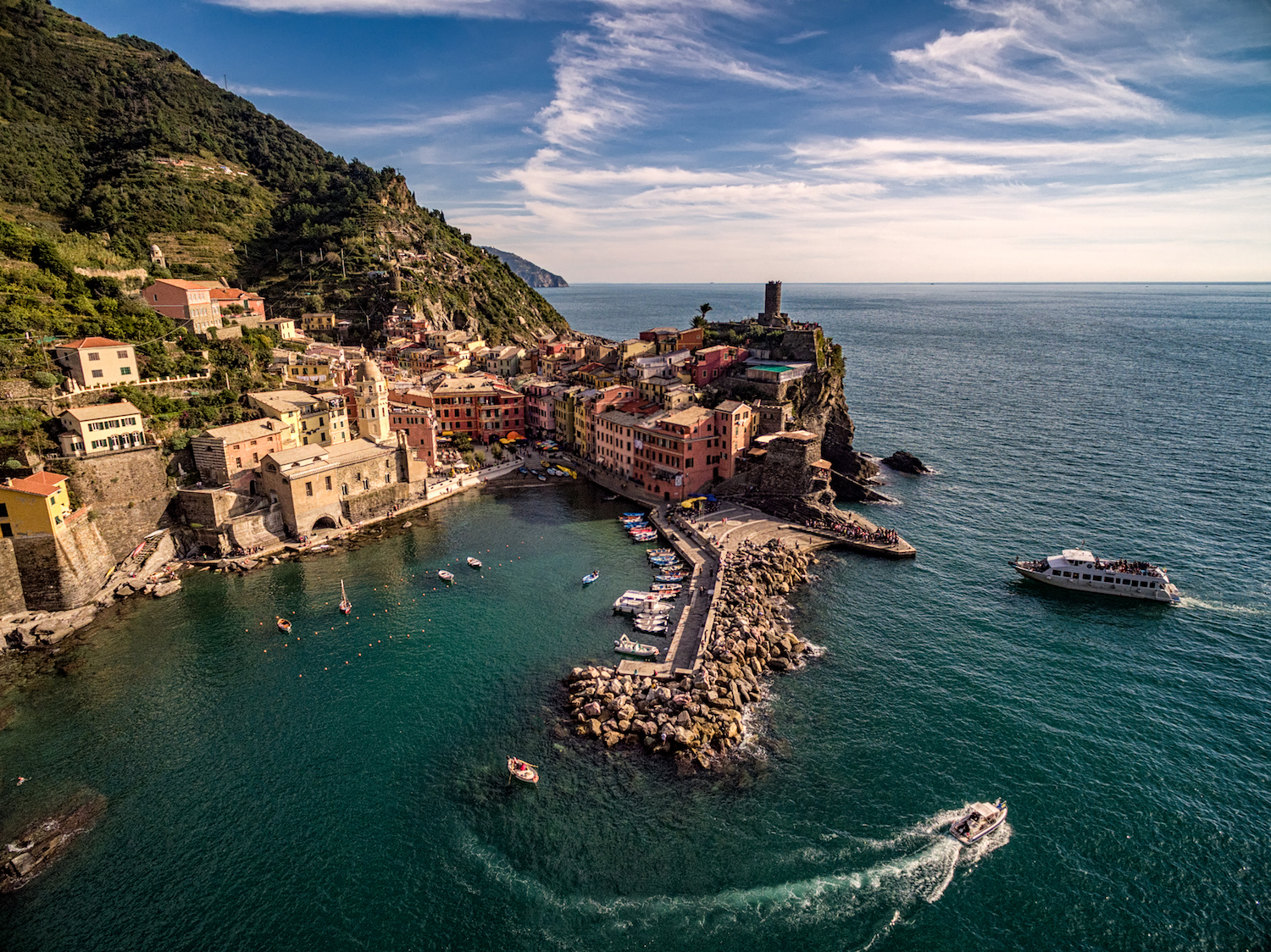 Vernazza, Cinque Terre
I use ND filters quite often, but that's because I also shoot videos. In order to get a cinematic effect on a shoots, one should use the double of the fps one is shooting with. For example, I use 4K 24fps, which means I should ideally be shooting at 1/50 sec shutter speed. In order to achieve that on a bright day, I need to use Neutral Density filters to reduce the light coming into the camera and enable a slower shutter speed.
Since I use it but mostly for videos and its too complicated to us for photos, I'll launch my drone, shoot photos, bring it back, put on the ND, and get it back up to shoot a video.
If you are going to use ND filters, be careful in dim lighting. The ND filter reduces the light coming into the camera (that's the whole point), which slows down your shutter to the point where you might start getting some shake in your shots. In low light, stick to a default camera filter that is supplied with the Phantom.
A circular polarizing filter is another beast. You may know that you need to rotate it to the right position to achieve the desired PL effect when using it on traditional cameras; however, there is no possibility to do so on the drone, so I have never used PL filter.